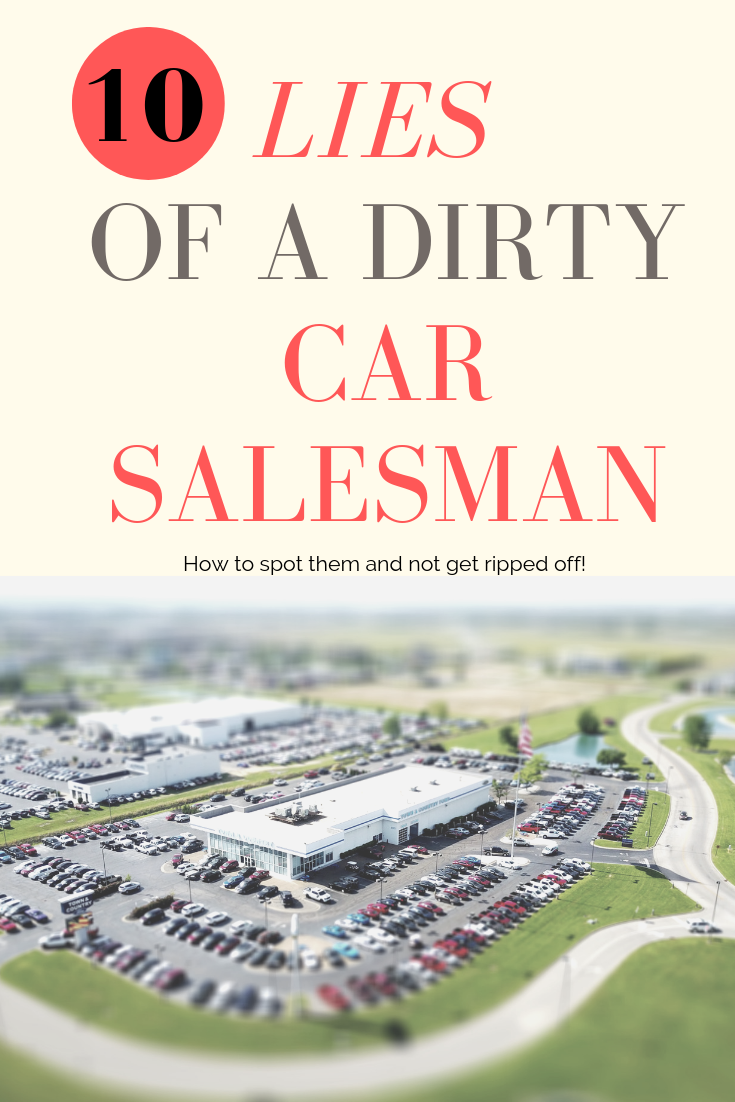 Good and Bad Car Salesmen
At some point, we are all probably going to have the experience of buying a car.  For those that have, they will all tell you stories of how long it took, how the dealership tried to add many extras, or for others, what a good deal they got, it only took an hour, or how pleasant the experience was.  So what makes one person's experience so much better than an other's persons?  Simple, the salesmen and the dealership tactics.
A Car Salesmen controls your experience.  They control the starting point for your negotiating, the back and forth process, and the speed at which all of the complicated things happen.  A car salesman that does not have your best interest can cause a miserable time in any of those areas.  In my experience, most of the bad car salesmen I have come across typically work for dealers that like to game the customer and wear them down to get the highest possible price on the car they are selling.  A good car salesman in converse helps speed up the process, does not waste your time, and supports you.  You can read more about ways to spot a good car salesman here.
10-Lies of a Dirty Car Salesman
Lies, Lies, and More Lies.
So you know everything there is to know about the car you plan on buying. From the true wholesale value to the estimated deprecation. You are armed with spreadsheets, references, ads, and competing bank interest or lease rates. So what is the one thing you are missing?
How about a lie detector? Well, I can't give you one of those, but here is the next best thing from quotes car salesmen have actually told me.  If you here any of these, be on the defensive as you may have a dirty car salesman.
1. "This is the lowest deal ever done in the history of this dealership" says the car salesman as he smiles and winks at you. Yeah right! This is your sign to push harder, you have not done good enough.  You could also respond with " This is the worst deal I have ever been offered in my life".  Statements like this are designed to push that impulse button we all have.  Don't buy in and keep negotiating or try another dealer.
2. "This sale is the best they have had and it will never be repeated," says the manager of the dirty car salesman. If that is true then ask him to put that in writing and guarantee you that if a better deal ever comes along they will pay you the difference, and then say goodbye. The salesman obviously does not respect you.  Sales will happen every year, some better than others and there is really no way to know if it will never be repeated.  I was told this line when GM was offering the first-ever employee pricing deal.  Now it seems that offer is every other weekend.
3. The car salesman tells you they will give you private party blue book for your car. If they do, then you are paying to much somewhere else. Most dealers send cars to auction which is far less then private party blue book and the reason why they give you such a low amount on trade-ins. Giving you Private Party blue book value is a losing proposition for them.
4. "We need 20% down", says the car salesman. If this comes before they have checked your credit score get up and leave or tell him you want the car for $10 per month. Many banks do not require this unless you have horrible credit. They are conditioning you to make the real offers sound better. You're in for a long ride with this salesman if you don't set him straight right away.
5. The words of a great Lying salsman: "We have a great 52-month loan" or substitute any loan that is different than 24,36,48, or 60 months. This is a big red flag! Off period loans are designed to maximize profits because people are usually not prepared to negotiate them. If you know how to, then, by all means, check the math and proceed, but if you don't know how stay away.  Read up on ways to understand Low APR financing.
6. "I have to check with my manager on that payment" says the eager car salesman. No they don't. Fact is after they run your credit they have nice programs that tell them what various banks are going to loan you. If you are negotiating loan payments, you are losing the battle. You should always be negotiating the car price. For that, they may need to check with the manager if you are driving a hard bargain. Once the price is determined, your car payment is a function of your credit score and any special promotions a bank is willing to give you. You need to know this information if you do you will save yourself a lot of time and money negotiating your car.  Learn more about APR vs. Cash Back.
7. "Residual values are set by the bank" said by the car salesman in the heat of the negotiation. Well this is true, however, is that what they are giving you in your lease? A tactic that is used in leases is to increase the payment but give you a lower residual value at the end of the lease. This does you no good, it just means you are renting the car higher than what you should be renting it for. You should know the approximate residual value. I have not found any sites that reveal this information for free, but a good approximation is looking at the used car market 3 and 4 years out. A typical car can lose about 40% over the first four years ( 20% in the first year and then 7-10% in each subsequent years). By the way, never do a 60-month lease. 36-month leases are optimal in most cases. Read about Car Depreciation.
8. "This deal is only available today!" Probably not true unless it is a factory special that expires. If you have done your homework you will know this already and be able to know if the salesman is lying to you.
9. "We can't match the same deal the other dealer has!" Probably not true. If it is, then leave and go to the other dealer.
10. "Our dealer sells the most cars and gets the best pricing from the manufacturer!" Hmm, it is funny that almost every dealer I have walked into says this. Perhaps they all sell the same amount of cars. If they are claiming this ask them to back up their offer. If you find a lower price have them give you the difference, after all they are suppose to get the biggest discount right?
Here is the good news.  For every bad car salesman there is a great one!  Key is to find them and work your deal.  If you do get a bad salesman simply ask to work with someone else.  If we all did this perhaps we could weed out the bad salesman and change the car buying experience.
At the end of the day, be careful about statements that seem strange or don't correspond with your research.  The more prepared you are the better you will spot the good from the bad and walk away with a great deal.
Finding you value in car shopping!