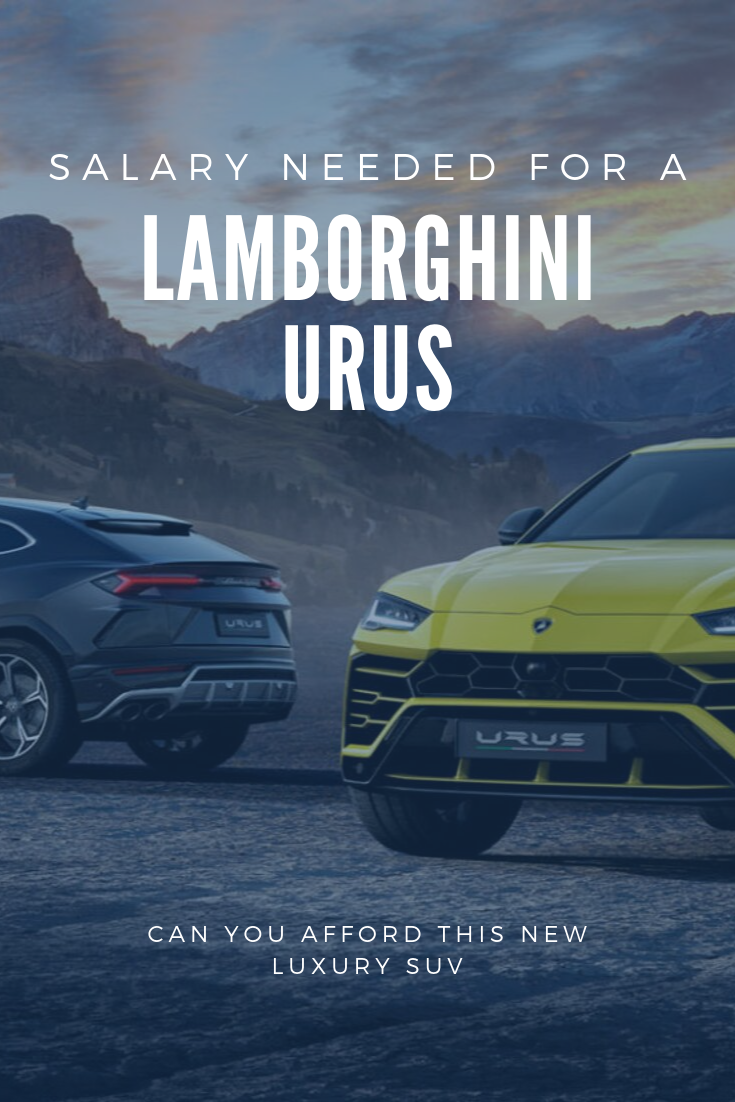 Article Index
–The Lamborghini Urus I Saw on PCH
–Cost of a Lamborghini Urus
–How much salary is needed to own a Lamborghini
-Affording an Exotic Car
The Lamborghini Urus I Saw On PCH
If you have ever driven down the PCH through Malibu, no doubt you have seen your fair share of Lamborghinis, Ferraris, and other exotic cars.
Just the other day, I saw a Lamborghini Urus pass me by.  Quite a nice looking SUV.  It was a great looking SUV and not to flashy like some of the typical models you would think of.  As I often do, I wonder what kind of salary does it take to comfortably own one of these exotic cars?
Here are some of the specs just to know what you are getting
From Car and Driver
The twin-turbo 4.0-liter V-8 makes a healthy 641 horsepower, burbles deeply when idling, and absolutely howls under full throttle. Full-time all-wheel drive and an eight-speed automatic transmission conspire with all that power to enable fantastic acceleration. In our testing, the Urus went from zero to 60 mph in 3.2 seconds and tore up the quarter-mile in 11.4 seconds at 121 mph; Lamborghini estimates a top speed of 190 mph. The 2019 Urus feels athletic from behind the wheel; steering is quick, and high-speed cornering is stable. With air springs at all four corners, you can change the Urus's ride height based on its various drive modes. Standard carbon-ceramic brakes ensure that the Urus stops as well as it goes, braking from 70 mph to a stop in 149 feet.
Cost of a Lamborghini URUS
Owning an exotic car involves many costs that are much higher than the national average for typical expenses.  Here are just a few of the costs you are looking at:
Purchase Price – – $250,000
The cost of the URUS can be a huge range depending on the style, options, and other things you can add.
They typically start around $200K, but can be higher than $300K.  It seems the slightly used market for a nicely equipped model is around $250K on average.
For the new models, it seems people spend on average $40,000 on extra options.
Insurance Cost: $6,000-$30,000 per year
Insuring for the Lamborghini URUS is going to run on average $500-$600 per month with ideal factors (clean record, no high-cost cities, etc.).  At $500-600 per month your ideal cost is around $6,000 per year, however, there have been reports as high as $30K per year!
The other challenge is that many insurers do not run coverage on exotic cars.  As a result, you are left with fewer choices, and with those choices, you have to run customized quotes, so comparison shopping is very difficult.
Maintenance Cost:  $2,000-$5,000 per year
The maintenance cost for your Lamborghini Urus can be extremely expensive depending on the items you need to be done.  There are options to help defer some of these costs like the pre-paid maintenance plan, certain service contracts, and other dealer incentives.
An average oil change can cost around $500, tires can be around $1,500 per pair, and brakes can be multiple thousands.
Registration and Tax: $15,000-$20,000
The registration and tax are worth noting since it is a large ticket purchase.  Many states have a luxury tax for items like this and many states will charge registration based on the cost of the car.
Based on the costs above, you can see it becomes very expensive to own a Urus.  After you pay the $250,000 price tag + $10,000-$15,000 in sales tax, you have yearly expenses that cost start around $8,000 per year and can be a lot higher.
How Much Salary Is Needed to Own a Lamborghini?
There is a good rule of thumb that any vehicle you purchase should not be more than 50% of your annual salary.
So with a purchase price of $250K + Yearly costs of $8,000 (for three years) + Taxs and registration $15,000 = $289,000 for your three year cost on the low end.
Staying with the rule of thumb, your salary should not be less than $578,000.
I know, it is extremely possible to buy a Lamborghini Urus making less than $578K, but doing so puts a lot of your hard-earned money into an asset that will depreciate, meaning a good portion of your money is not working for you.
But, Lamborghinis Appreciate?
Well some do, most don't.  It really depends on the market, the amount of cars released, and the demand.  Some exotic cars depreciate as much as 82%, some do appreciate but it is hard to know when they will.
If you are going to buy, it is best to know how the car is performing in terms of depreciation by purchasing in the used market.
Here is a good bit about exotic car depreciation from autoinfluence:
You might not be familiar with the name, but Hagerty Valuation. A study was performed auditing the valuation of 28 limited edition vehicles ranging from forty-year-old BMW to the most modern of supercars. The findings determined that most every older-model supercar was valued well-below it's original MSRP, to the tune of up to 82%. That said, a Pagani Huayra produced in the last seven years could enjoy an increase of up to +21.64%, an impressive ROI for sure. And of course, names like Ferrari, Porsche and McLaren are some of the most recognizable, and commonly recurring automakers included in the assessment.

Brian Rabold, Vice President of Valuation Services at Hagerty explains, "The latest crop of supercars has bucked the trend and done well to either hold value or appreciate in the immediate years following their releases. A big reason is their exclusivity, as build numbers are very low and the ability to purchase one depends on having privileged status with the manufacturer. Ownership is often accompanied by a promise to hold the car or suffer the wrath of the manufacturer, which has kept the available supply low."

But there is no guarantee of value retention among newer offerings, even from the same high-end automakers that proved prevalent among Hagerty's findings. It really comes down to the individual circumstances surrounding the make, model, and year it was produced. From series numbering and exclusivity to the outside influence of market saturation, there's no hard and fast rule.
Read a bit more about depreciation here.
Affording An Exotic Car
Affording is a tricky word.  A purchase of this type is not really about your ability to afford the car, it is more about opportunity cost and where you are with your particular situation.
For example, someone who makes $100K a year and owns a house and is saving for retirement wins $500K in the lottery.  This person can "afford" to buy the exotic car with the cash, but that is a very poor decision.  $500K in cash can be leveraged to generate this person income that could replace their current salary in 10-15 years allowing them to retire early or be financially stable.
The opportunity cost to spend the $250K on the car is well over $300K – meaning that the car actually will cost them more than double the purchase price due to missed opportunities over 10-15 years.
Now, let's say this same person had $500K in property that was already generating cash + their salary and was on track to replace their income and retire early.  Spending the money on the car is now is still a bad idea, it still has the same opportunity cost, but the major difference is that money is not impacting a strong path the person has set for themselves.  Granted, they could use the money to retire now, but maybe they enjoy their job and are fine with the 10-15 year timeline.
Point is, affordability is your ability to pay for all the expenses and still have enough left over for the things you require (food, shelter, etc.).  It is a simple formula, what affordability does not address is your lost opportunity (opportunity cost).  This is much harder to figure out and it is also why many times the fun and exotic item wins because we can "afford it".
When thinking about a large purchase, don't ask whether you make enough or not (that is easy math), the real question is what is this going to cost me in 10-15 years.  If you can do that, you will have better odds in making the right choice.
Leave your thoughts below!