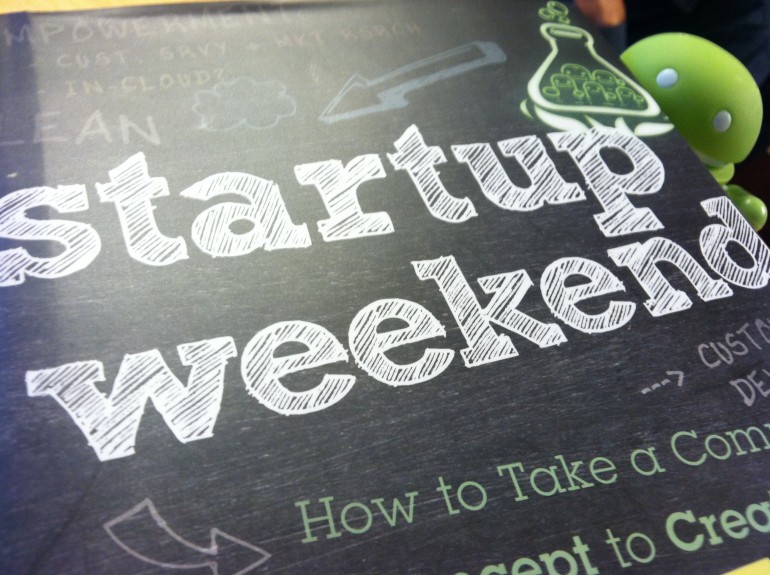 Recently I was introduced through a colleague of mine about an event called Startup weekend. I was naturally intrigued as I currently have a few startups of my own and was working on the next stage of my ideas. As I looked into the event, it seemed more and more like something I would want to attend and it was in line with one of my personal goals to gain more comfort in public speaking.
That night I looked at the events and discovered that one was going to start on Friday (it was Wednesday) in my area. For those that do not know the format here is a quick run through:
Friday night: Pitch idea in 60 seconds or less. Form Teams on group selected ideas.
Saturday: Work on ideas to find an MVP (minimum viable product).
Sunday: Continue to work on idea and present to a panel of judges that night.
When I first saw the link I said no way, public speaking, freeing up a weekend on short notice, etc. I had a thousand excuses. But as I was driving home on Wednesday I thought about it, it is a good opportunity and it was certainly outside of my comfort zone. That night when I got home and told my wife she said just do it. That was it, Thursday I registered for the event as a full participant and on Friday wrote out my 60-second pitch as I was driving to the event.
Friday Night:
When I arrived, there were already a lot of people. I mingled a bit, met some people, and was just watching the event. It was time to start, this was it, pitch time. Now my idea was something I have had for a long time, have tested, and even at some point had subscribers on a test platform. I knew the idea inside and out, should be a breeze. Everyone that was pitching lined up (about 30 of us) to give our pitch to 70 people in the room. I was number 5. The person before me was a 15 year old pitching a universal social media app, I wished him good luck. He nailed it, great delivery, emotional, and sold the room. My turn, first 10 seconds perfect, next 20 seconds some stumbles, next 30 seconds forgot what to say. Time was up, I flopped.
After the pitch, I watched the rest of the people and considered going home and not participating in the rest of the event. But before I could leave I had more to do. Every one that had a pitch had to hold a sign and recruit people to work on the idea, the teams with the most people would be the suggested working teams for the weekend. I was able to get some takers, but not nearly as much as others. Perfect, after this I could go home and have my weekend back, but then I realized, the whole reason I did this is to help me overcome my fears and participate in something outside of my comfort zone.
I changed course and began talking with a lot of people, it was too late for people to join my team since they made commitments already, but I did get a lot of people interested and wanting to help with my venture in general. This gave me the strength to continue for the entire weekend. Six teams were formed out of thirty ideas with approximately 6-10 members each. With renewed confidence I joined a team and we were off to plan our product.
Saturday:

The next morning our team meets and begins the process to arrive to a MVP (Minimum Viable Product) by Sunday. Keep in mind, none of us had ever met and the only thing we knew about the idea we were working on was from the 60 seconds the team leader had pitched the night before. Throughout the day, the event brought in mentors and speakers to help us build, design, and identify key aspects of each idea. Our team was like a well-oiled machine, assigning tasks, pulling market data, interviewing potential customers about the idea, sending out social media surveys, designing mock up apps, and so much more. We worked past midnight along with six other teams that night.
Sunday:

Product pitch day. The product pitches would be held at 7PM in front of a panel of judges that included the mayor, high powered VC, and two angel investors. Teams scrambled all day to prepare all the necessary elements of their ideas. Another round of mentors came in to help the teams and a panel of mock judges arrived to perform test pitches. At 3, it was our turn to test our pitch, we had done so much but at that stage we had not even put together our presentation, we only had mock slides. We went up in front of judges and delivered a strong presentation for five minutes without any practice, no slides, and not one word written down. The mock judges were impressed and gave us some tips of things to improve for the final pitch that night.
Sunday Pitch Time:
At 6:45 we finished our six slides to present and went to a quiet area to rehearse for 10 minutes. We all discussed who should do the final pitch, it was decided that the person who formed the team would speak and me. I was worried, after Friday night's disaster now I would have to pitch someone else's idea for 3-minutes with a whole team depending on me, but I said I would do it. Here is how we practiced with the five minutes left, hold up slide and say something, good, next slide. We went through 1.5 times and it was time to start.
The teams were selected in a random order and we were third to go. On our turn, me and the other speaker went up to the mic with our presentation projected behind us and started. I had the last three minutes, as I waited I felt calm and different than Friday. When it was my turn, I began talking, looking across the audience, talking to the judges, 1-minute no problem, 2-minutes not problem, 60 seconds left, no problem. Did I just do that? Delivered a three minute speech to 70 people, 6 judges to pitch and idea that I had no knowledge of a day and half earlier? I did, time was up and we got a round of applause and some wonderful questions. Afterwards, a lot of people gave us positive feedback and so many people came up to me and said I was a different person than Friday. A lot of people came up to us and wanted to know more and we were invited to pitch the idea two weeks later to another group. All in all it was a wonderful success and for me was the single largest thing I have done in the last five years to improve myself.
After Thought

Why I chose to tell this story is that it does not matter who, what, or where we learn how to innovate. What is important is that we find the ways to unlock inspiration, find the courage to think differently, and act. The event has had an extremely positive impact on my daily life in both my full time job as well as my startup ventures. Here are just a few things I got out of the event:
1. It helped show me how to overcome some obstacles in communication.
2. It showed me that the idea is not important, it is the team collaboration and the opportunity to succeed, along with the desire to improve upon one's idea by gathering honest, valuable feedback.
3. It showed me that in given the right environment anything can happen.
4. It gave me new contacts that have helped in the after weeks.
5. It renewed my own innovation and gave me new energy that has already had positive results.
The thing that was most amazing at the event was the fact that a group of strangers could assemble viable business models in a weekend. Some teams had working web sites and one team even had two signups. Imagine if we could unlocking that talent that lays dormant in yourself or your peers. Imagine what you could achieve if you do not fear honest feedback. Imagine what we could achieve you had the tools and flexibility to test and innovate rapidly. It is all possible!
In the short few weeks after the event our team has continued with the idea and has since applied for an accelerator program, launched a landing page, built a viable business model, developed the framework for our micro services architecture, set up a full social media campaign, met with several angel investor groups, and have expanded our team to eight. Four weeks prior, we were all strangers with one person having an idea.
Change your life and attend one of the events in your areas!
For more information on Startup Weekend visit them here.
Visit and support us:
Our interest page:

Follow us on Twitter @mealbotsocial
Follow the idea that I pitched (but did not work on)
Follow us on twitter at @cloudendeavors